VIP Parking & Spectating Package
For those who wish to enjoy exceptional parking and spectator viewing, BeaveRun is proud to offer a limited number of parking spots conveniently located between the North Track road course and the Wilson circuit. The parking spots are all within 100 feet of the Conference Center Building. The VIP Package also includes exclusive spectator viewing of North Track, paddock and grid areas from the covered second floor balcony of the Conference Center and places you within easy reach of amenities such as restrooms.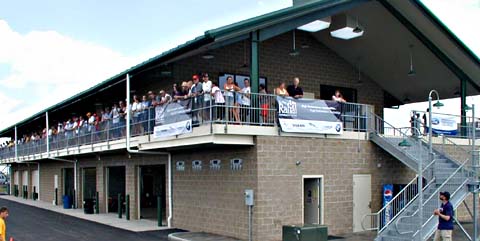 On days when the VIP Parking & Spectating Package is offered, access to the Conference Center Building's covered 2nd Floor balcony and Deck areas will be restricted to guests who have purchased the "VIP Package" or are among a limited number of people who have VIP status for that event day.

Limited Availability
There are only 90 parking spaces available... only that number of VIP Parking Permits will be issued.
What the Package Includes
Parking for one vehicle (car, mini-van, pickup truck, SUV, station wagon, etc.). Motor homes, buses, trucks and other oversize vehicles are not eligible for the package.
VIP Spectating privileges on the 2nd Floor Balcony and Deck areas of the Conference Center Building for each person occupying the vehicle when the VIP Parking Permit is issued.
Persons having VIP Spectating privileges will enjoy complimentary bottles of chilled water served at the Observation Deck.
General Policies
VIP Parking Permits are issued on a daily basis, but special multi-day pricing will be available.

VIP Parking Permits can be reserved in advance of an event only if advance payment is received.

Vehicles with VIP Parking Permit may leave and return to the VIP Lot as necessary.

Once issued, VIP Parking Permits are not transferable to another vehicle.

Camping is not permitted in the VIP Parking Area.
Cost
Cost for the VIP Parking & Spectating Package is $20.00 per vehicle per day in addition to whatever spectator gate fees may apply.
Included in this "Package" are an upgrade to VIP Spectator Privileges for each occupant of the vehicle at the time of original arrival.