What's it like to be strapped into a professional formula race car like this... going down our back straight and through our well-known turn nine at full throttle? Only two ways to find out.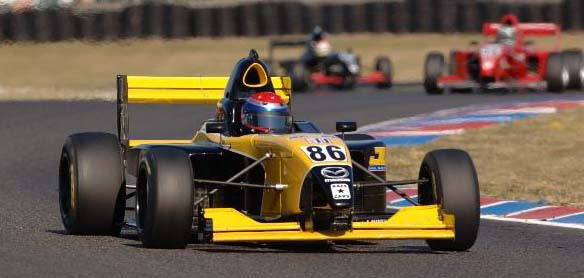 The Pro Formula Racing Experience at BeaveRun.
If you've ever watched the Indy 500 you've seen the excitement of open-wheel Formula Car Racing. Now, as you suit up and climb into our 1050 lb., 250 hp professional race car capable of speeds over 165 mph, you can experience first-hand the same excitement and adrenaline rush that popular pro formula racers get.
Your three hour experience starts out with a safety discussion followed by familiarization laps in a special BeaveRun Mazda 6 with a professional in-car race instructor who shows you the fastest line and best techniques to get around our 1.6 mile North Track. Next, you and your racing coach get in a Spec Miata race car for full-speed laps (in the triple digits) that warms you up for the big event. It all culminates with the dream drive - 4 laps in an actual Star Mazda race car managed by John Walko Racing - winners of the 2006 Star Mazda Team Championship! The Star Mazda Series helped launch the careers of many of today's open wheel racing stars.
Be ready for a thrill that can't be matched. This is the same car that holds the overall lap record at BeaveRun. How close can you come to that record? Strap yourself in and find out!
In car data acquisition technology and video cam provide a report and record of your performance which is reviewed with you once you catch your breath and enjoy refreshments with your coach. Take home your results, a photo of you and the car, and an in-car video!
3 hour program
Call to reserve your spot! Seats for this experience go fast!
$750 includes instruction, gear, cars, track time, photo, results and video
Weight and height restrictions apply - maximum 240 lbs and 6'4"
Pro Formula Race Coaching at BeavRun
This personal racing school program is designed for the serious driver who wants to hone racing and high-speed driving skills in a 250 hp, 1050 lb. Star Mazda Formula Race Car. You will experience 40 laps of seat time and personal attention as you receive tips and critiques from professional race coaches who address not only the fundamentals of racing, but also those fine points and driving techniques that result in an extra few hundredths of a second a lap...the difference between the winner and an "also-ran". This school is limited to 4 participants using 2 cars, so you get hours of seat time and maximum personal attention as you progress from classroom to in-car instruction wtih demonstrations, practice, coaching and critiquing from the team of highly skilled racers and coaches associated with John Walko Racing. They coach you from the corners with a live headset and review in-car data acquisition wtih you after each session, showing exactly what you did as you negotiated our 1.6 mile North Track. Achieve your best time in a John Walko Racing Star Mazda Formula Race Car and compare it to the pros. You will amaze yourself at the skills you master in one day with hours behind the wheel of this professional race car.
Call to reserve your coaching experience!
$1750 - includes personal coaching, gear, cars, track time, photo, results and video
Weight and height restrictions apply - maximum 240 lbs and 6'4"
All Pro Formula Days have been Postponed for the 2011 Season
For more information or to register please call sales at (724) 535 1000 ext 302
Pro Formula Days